Introducing comitFS CAS Workflow
At comitFS we've passionately believe in open standards, our core architecture is based on Ignite Realtime. A FINOS 2022 survey indicated 87% agreed that open standards are valuable to the future of the financial industry.
Capital Markets itself has always been information-dense, it's a prerequisite to help the sell side secure an alpha return whilst the buy-side secure best execution. This density creates fragmented workflows.
At comitFS our business is built upon helping traders become more productive, by ensuring regulated turret conversation works seamlessly with desktop apps such as Salesforce or Microsoft Dynamics. These apps are critical to support the frictionless workflow, but its 2 applications out of 30+ apps traders consume every day.
At comitFS we've been challenging ourselves to find a more efficient way to seamlessly allow more applications to make call request to our CAS middleware, in which we provide third party call control to IPC, BT, Microsoft Teams & Cisco regulated devices.
Being middleware experts, we've been exploring how we can unlock more value for our customers by exploring FDC3 . FDC3 is seeking to standardise the way financial apps interact with one another.
Today, FDC3 platform providers such as Glue 42, Finsemble, OpenFin, & Connectifi have created containers that allow multiple apps to seamlessly sync with one another, driving automation and efficiency deep into the buy and sell side.
At comitFS we see FDC3 as an opportunity to challenge the status quo of what great frictionless high touch trading is.
So, we've been imagining a world where smart automation and real-time intelligence from the trader voice conversations could be brought into every app. What would be the impact on traders' productivity?
We are leveraging our subject matter expertise of high touch trader devices with FDC3 to amplify the level of automation and intelligence we bring to our customers. At comitFS, we always love to build working prototypes to stimulate debate, our dev team has pulled together a great alpha demonstrator.
Elevating Trader Voice Conversations
In Salesforce & Microsoft Dynamics we now able to elevate the workflow beyond seamless call control into contextual on demand intents between the regulated trader and customer.
Use Case 1 Trader clicks to elevate the conversation with a parallel Symphony Chat
Use Case 2 Trader clicks to open news ticker on client latest equity trade
Use Case 3 Trader clicks to open price ticker on client latest equity trade


Figure 1: CAS Workflow working seamlessly with CAS Diallers
Use Case 2
We're able to bring contextual & on-demand intents into the Turret. For every call we can dynamically present the option to elevate the collaboration through CAS Workflow.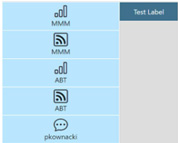 In this example, having picked up the call to the customer, part of the trader turret screen has dynamically changed. The Trader able to see the last two equities trades the customer has completed.
MMM News & MMM Price Ticker ABT News & ABT Price Ticker
& the Trader has the ability to elevate the conversation to a chat
If Trader, clicks on Chat icon, the Trader Symphony chat dynamically refreshes from…

To

Working with FDC3 Application Community
We also see huge opportunities to collaborate with the wider FDC3 apps community to enrich their workflow.
For example, an Order Management Systems issues IOI or RFQ. Rather than break away and instantly call the customer, the OMS platform can publish a make call request to comitFS, resulting in the trader's turret making a call.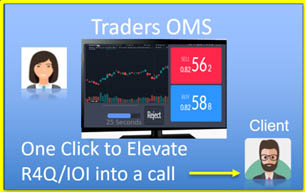 The trader never has to break away from their OMS application, plus the product owners secure another set of meta data to drive new insight back into their customers.
Critically the CAS Workflow will always ensure the media remains on the regulated device, ensuring no loss of functionality whilst always working with the banks existing voice recording architecture.
We're looking forward to demonstrating our work to secure insight from both customers and the wider FDC3 communities in the coming weeks. If elevating the workflow to drive better outcomes is a priority, then please reach out to comitFS. .

Eugene Land
Head of Sales & Business Development